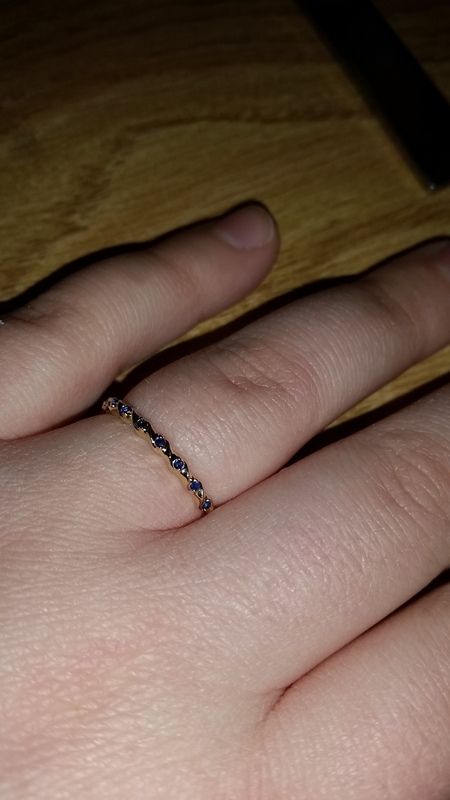 We picked it up from El Paso last weekend. It's been called "dainty" and I'm not a dainty person! But yes, it's pretty small and thin and simple. I really like it. Some days my fingers swell and it's tight, but some days it's loose. Today it fits just right.
Diet is still not going well. I've been upset about it, so Justin told me he's doing the diet with me and has been since Monday. He's way more strict about it than me. Today we went out for lunch and got the side salad with bun-less cheeseburger. He didn't eat most of the tomato because of carbs, and then identified the "mayo" as miracle whip and said we shouldn't be eating that too. When I say I want to eat Steak with onion, he says no because it has too many carbs.
I'm all moved into my new place! Already dealt with maintenance problems with the bathroom sink. Got it fixed yesterday. I can't take a bath because I guess the hot water heater sucks. I'm so sad about that. The place is colder, but the kitchen is so nice and has a dish washer, not to mention how much better the clothes washer and dryers are. Overall it's a nice upgrade. I need to find a hot springs somewhere XD.
My boss has been a complete ogre to my coworker and now she's looking for a new job : (. I'm so sad, I don't want her to leave. My boss never appreciates her and treats her with disrespect. She doesn't know how good she has it with her... she has years of corporate experience, is very organized and on top of things, and is great with all the crazy customers. Like the dude who just walked in... demanded a free copy of some article and when we told him we can't provide that, he asked for the author's e-mail so he could e-mail him and ask for a free copy. Then told us the public library would let him check it out... go there then? Copies are 10 cents per copy. Jeez. Anyway, she isn't here today. Texted me that she is "updating her resume and contemplating life.