#mylivejournal #lj18 #happybirthday
I've been on here since I was 16. It's disappointing the new TOS is so shady, but I'm not going anyway. Several people have transitioned to Dreamwidth, but I doubt I'll be doing that.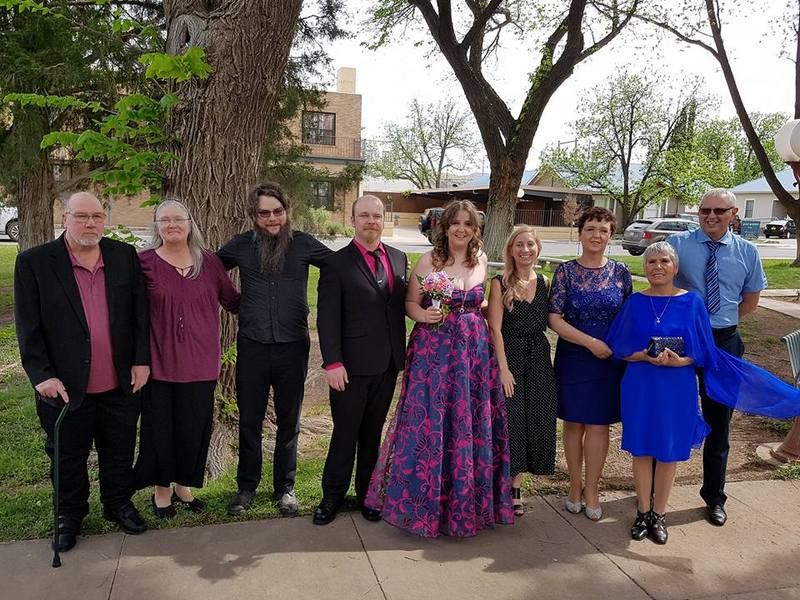 So from left to right is: Justin's Stepdad Larry, Justin's Mom Linda, Justin's brother James, Justin, Me (Lisa!) , my friend Miranda, My mom Elena, my Grandma Zina, my dad Leo
(
Just a few more. Most of the pics need to be converted because they're raw files.
Collapse
)
Also, can anyone beat me?!
Spoiler Warning for "A Streetcar Named Desire"
A young, blonde, well-dressed young woman looks out of place in a sea of working-class people in central New Orleans. She is a Southern belle from a well-to-do family who has fallen on hard times, needing to stay with her sister until she gets on her feet again. Her wide eyes look around, clearly lost in the new atmosphere. She is told by a local take a street car called "Desire" to arrive at her sister's apartment where she will face a slew of tribulations culminating in her complete mental breakdown and committal to an insane asylum.
This is the start of Elia Kazan's 1951 memorizing adaptation of Tennessee Williams' famed play
A Streetcar Named Desire
. Vivien Leigh once again plays a haughty Southern Belle determined to fix her life's circumstances. She is opposite a thuggish Marlon Brando who launched his cinema career from his role in the drama after he succeeded playing the same character on Broadway.
Blanche and Stanley's first meeting
Blanche DuBois and Stanley Kowalski are polar opposites. A prim lady versus a working class Polish-American. Their first meeting is uncomfortable as Blanche shyly scopes out her sister's husband she had never met before. She quickly finds out how violent and irascible he becomes with little provocation. During a card game, he becomes enraged when the sisters chatter too much, striking his wife, Stella in the face. Blanche and Stella run away to seek refuge with the next door neighbor.
Blanche begs her sister to leave Stanley , whom she describes as a "boorish Pollack", an animal who has been left behind by eons of evolution, among other descriptive analogies. She doesn't believe Stella is in love with Stanley, attributing any feelings to passion and desire.
What you are talking about is desire - just brutal Desire. The name of that rattle-trap streetcar that bangs through the Quarter, up one old narrow street and down another.
In what is is possibly the most famous scene in the film, Stanley screams Stella's name until she finally comes down to embrace him, allowing him to carry her back to their apartment. She can't leave anyway, she is pregnant with his child.
Unable to get through to her sister, and desperate to leave Stanley behind, Blanche begins a courtship with Stanley's friend Mitch, who she views as less rough and tumble. Things seem to be going well for them until Stanley begins to investigate Blanche's circumstances. It turns out that she was chased out of her hometown in Mississippi for attempting to seduce a minor at the school where she taught English and she has a history of mental instability. Stanley tells Mitch what he discovered, which later ends their relationship, a move that finally triggers Blanche's mental collapse.
While Stella is in labor, Stanley goes home to find Blanche dressed in a tattered gown, claiming she is going on a trip and weaving an elaborate tale of what she will accomplish while insulting him. Stanley decides to crush her once and for all, and forcibly rapes her then and there. Blanche tells Stella what he did to her, but Stella refuses to believe it. In the final scene, Blanche collapses from distress while she is removed by a doctor and nurse from the Kowalski apartment and committed into a psychiatric facility.
Whoever you are, I have always depended upon the kindness of strangers
, are her parting words. Stella takes her baby and stays with her neighbor, saying she will finally leave Stanley.
While Stella did leave Stanley in the movie, in the play, she just looked away and allowed Stanley to console her as her sister was being committed. No hope could be won through the complete breaking apart of Blanche DuBois. At the end of the film, we are left wondering what Blanche's true desires were. With the lies and stories she fabricates, how much of it was desperation, and how much of it was the truth, if any? She arrives in New Orleans, running away from shady circumstances, her head is still high, her outlook positive. She wants a better life for herself and seeks to achieve this in New Orleans. When she sees the truth behind her sister's husband, she feeds Stella the truth: Blanche is concerned for their safety and she begs and pleads for her to leave Stanley. When she sees the futility of this, her next hope is in Mitch, so she could at least have her escape. After this is shut down, she finally loses her mind and she leaves by ambulance rather than the streetcar
Desire
.
It is also unclear what Stella desires, though by the end of the film at least she doesn't desire being with Stanley anymore. I'd like to think that Blanche gets better and the two of them make a new life for themselves, away from the rickety streetcar reminding themselves of troubled times. Maybe I'm giving the sisters a Hollywood ending on top of the Hollywood ending that was changed from the play, but it's hard to not want to give Blanche some measure of happiness that she couldn't achieve throughout the course of the film. The rickety streetcar brings us to a volatile flat inhabited by a brutish "animal" who destroys any shred of happiness from those among him. It leaves us with the shards of a once confidant and defiant woman who has been utterly broken by her sister's husband. Finally, it leaves us thinking about what our desires are and how we can't let the Stanley Kowalskies in the world tear us apart.
"My name is Zuzu" she had said.
"Lulu?" I asked.
"Zuzu," she repeated "I know, it's kinda weird." I got the feeling this was something she had to say a lot throughout her life. She didn't stay for long, leaving with her boyfriend while we stayed a little longer, D. still going on about Big Brother keeping their eyes cued in on 4-chan.
The last time I saw her, I think I was in my car and she was crossing the circle in front of school and waved at me, probably headed to class. I always remember the last time I see someone.
It's late October and the campus gets news that Zuzu has been missing for several days. Immediately suspicion is directed at the boyfriend. She was last seen with him late at night. D. is taken into custody and made a suspect in the case. The police release him after he is cleared, but he is broken over the situation and has to leave school for the rest of the semester, unable to stay in town. I gave him a big hug when he said his goodbyes to his friends from the library. I asked if he was intending to come back, he said he didn't know.
That weekend, the town rallies for a massive search, organized by her fellow students and friends. We split into groups led by a law enforcement officer and comb the town, searching in dumpsters, through weeds in the blistering 90 degree sun. We get sunburned. When my coworker asks if I intended to go, I said I would help, but I said that if Zuzu is alive, she is probably far away from here...
Zuzu's disappearance becomes the talk of town. You can't avoid it anywhere. Everyone knows that her boyfriend did something to her, but he is completely clamped up, he gets a lawyer to represent him. The school president addresses everyone about safety and Zuzu's disappearance, saying the law enforcement is doing all they can. D. comes back into town for the start of the Spring Semester. We are all happy to see him and find out he's decided to finish his education here since we weren't sure if he'd ever come back. He adopted Zuzu's dog, Ponyo, after she disappeared and said the dog has helped him recover, although I don't think he can fully recover.
Finally, last week it was discovered that remains were found in a shallow grave just outside of town. Many people thought they finally found Zuzu, I thought that at least her boyfriend would have buried her far away but it turned out to be her. Finally her family could have closure to an end that everyone was anticipating. Her boyfriend and his friend were immediately arrested after the remains were found. Many of his friends and family probably helped try to cover her murder. We can only hope that they stay in prison for a long, long time.
Her memorial service was held at the newly-built amphitheater on campus last night. It seemed like half the town came in support of her, many people didn't know her, others like me barely knew her, but we learned about her through the words of her friends and family. She was named after the little girl from the famous film "It's a Wonderful Life". She loved the Beatles, which were played and performed at her service. She was a passionate learner who constantly challenged her fellow students and professors. She was enthusiastic about protecting the environment and loved hiking and camping. She was in the conservation biology program, one of very few students who were a close-knit group, and worked with pronghorn antelope in the area, often going out in the field to tag them and take samples. She was described as "sassy" and "a spitfire", she had an infectious smile and wanted to be friends with everyone. I felt I like I learned a great deal about her from what her closest friends and family had to say about her.
She had a very bright future which was cut short at the age of 21 when she associated with a jealous and violent person. That night after we went home, I thought about her and was sad to know that the last moments of her life must have been filled with terror. That is no way for anyone to go, and even though no one really can publicly mention what might have been her last moments, we all know the grim reality.
At her service, it was announced that the Amphitheater would be named after her, and a scholarship for the Conservation Biology program was created in her honor. The speech her professor gave about the impact Zuzu made on her life and her students' lives resonated with me the most. She ended with a quote from Thoreau which truly encapsulated Zuzu.
All good things are wild and free
Zuzu is free now, and her family is too. She is probably out with the pronghorn antelope now, immersed in the field and in nature where she truly belongs. She doesn't have to go back home anymore but her legacy lives on.
http://people.com/crime/mother-of-slain-texas-college-student-says-arrested-boyfriend-was-manipulative-and-vain/
It was a rainy late afternoon in August. The local guitar store was having its grand opening. They promised snacks and beer so a bunch of us from the library went to the festivities. We live in a small college town in West Texas so these kinds of events usually draw up a crowd. The rain stopped and we gathered on a picnic table by the new Thai food truck. D., a student worker at the library, was there and was ranting to me about various 4-chan conspiracy theories when I introduced myself to a girl I'd never met before. She was cute and very small, a bit drunk from the free booze.
https://www.buzzfeed.com/juliegerstein/do-you-hold-your-pens-and-pencils-the-right-way?utm_term=.jd4ga1WvA#.tlxmjw7Gp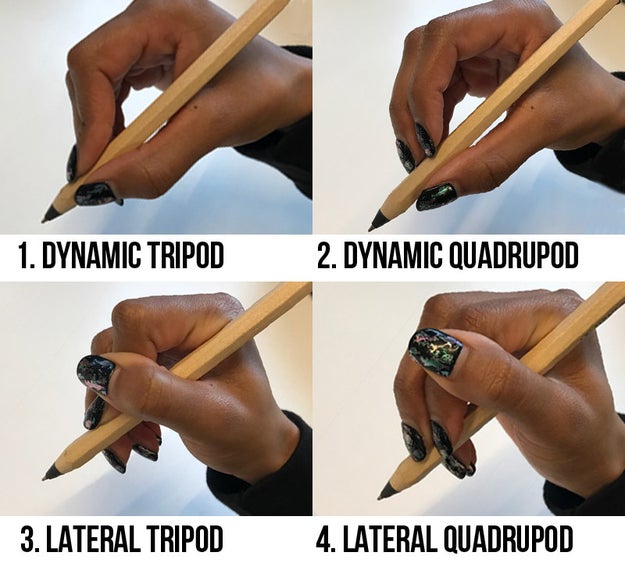 I'm a lateral quadrupod!
I can't edit the poll now, but if you do it another way, post in the comments!
How do you hold your pencil?
We come from the land of the ice and snow
From the midnight sun where the hot springs flow
How soft your fields so green
Can whisper tales of gore
Of how we calmed the tides of war
We are your overlords
Most people can deduce with my foreign-sounding name that I'm either a first or second generation immigrant. I'm about as American as they come, but in this day and age, even saying that isn't declared with as much pride as it used to be. I was only 4 and a half when I left Russia. Too young to remember much of anything. My only memory is when my mom took me to her grandmother's farm in Eastern Russia. I liked the animals a lot there. I was told that I made friends with a goose and it was kept from me that he became dinner… When I asked what happened to him, my family said : "Oh he just flew away!"
I've never been back there, and while I've wanted to very much, it seems my travel plans have to be postponed since my dad was going to travel with me and he has to encounter some sort of visa bureaucracy with the Russian government that he doesn't want to deal with. I still like borscht, and pelmeni (like dumplings), and katleta (like meat balls), and cabbage… foods strange yet tasty to my other American friends who beg for my mom's borscht, getting more familiar with the cuisine due to our culinary ambassadorship. I'm an elusive hybrid because I don't know that much about what it means to be Russian. I know about a few riddles, and a few superstitions. I know that I'm too blunt and this is attributed to my Russian-ness. Strangely enough, I can still speak the language, but not read and write. I attribute this to my mom not speaking
any
language too well.
It's hard to imagine what life would be like for me if we hadn't left in 1990. I suppose it wouldn't be too bad. I'd have spent most of my life so far in my parents very small Moscow apartment rather than a nice house in California. I would have been used to life in a very large metropolis and not peaceful and scenic suburbia. I would have still gotten an education, probably even a Master's Degree, even though the end of Soviet rule would have eliminated higher education for all. Maybe I'd even be very skilled in one other language, rather than semi-skilled in several. Although I somewhat doubt that one due to the poor language skills I've heard from many young Russians. Since I took my mother's Russian name, and not my father's Jewish one, I wouldn't be the butt of Anti-Semitic jokes and drunken slurs.
I think it would have taken me a much shorter time to be ashamed for my country: for its prosecution of LGBT, for its thinly-veiled Antisemitism, for its warmongering dictator. Writing this as a Russian-citizen could very well possibly gotten my journal censored. No such thing as free speech there. Just recently, the Russian Duma has overwhelmingly voted to decriminalize domestic violence-
http://www.usatoday.com/story/news/2017/01/27/russian-parliament-decrimiinalizes-domestic-violence/97129912/
. So it's not ok to beat others, but it's ok to beat your wife or your kids?
All along I thought that America was better than that, sadly things have gone back to how they were before the Civil Rights Movement. Everyone is familiar on the travel-ban inflicted upon people from certain Muslim countries. Notably, there has not been
one
terrorist attack perpetuated from people of these countries in many decades. As for Saudi Arabia, who provides much of the world's terrorists? Oh, we need them for oil and those business contacts the orange troll has there. People with green cards, people who have followed every legal process are being deported without regard to the disruption it causes in their lives and their families lives, not to mention it's illegal to do so.
This is why we can't have nice things… we have 8 years of a crazy idiot, followed by 8 years of an intelligent classy president who made not only the country, but the world a better place, followed by at least four years of a belligerent Nazi who can't even run a business, much less a country, that we almost long for the days of the simple-minded Texan. The only hope that remains is just how impassioned the American public has become. I've seen marches happening all over the country and the show of support at airports has been overwhelming. As the quintessential blue-collar American Bruce
The Boss
Springsteen said "You can't light a fire without a spark". The spark has been lit and it is up to all of us to feed the embers. Lest my country of origin and my home country will be one in the same place in a few short years.
(
my bling bling under cut
Collapse
)
We picked it up from El Paso last weekend. It's been called "dainty" and I'm not a dainty person! But yes, it's pretty small and thin and simple. I really like it. Some days my fingers swell and it's tight, but some days it's loose. Today it fits just right.
Diet is still not going well. I've been upset about it, so Justin told me he's doing the diet with me and has been since Monday. He's way more strict about it than me. Today we went out for lunch and got the side salad with bun-less cheeseburger. He didn't eat most of the tomato because of carbs, and then identified the "mayo" as miracle whip and said we shouldn't be eating that too. When I say I want to eat Steak with onion, he says no because it has too many carbs.
I'm all moved into my new place! Already dealt with maintenance problems with the bathroom sink. Got it fixed yesterday. I can't take a bath because I guess the hot water heater sucks. I'm so sad about that. The place is colder, but the kitchen is so nice and has a dish washer, not to mention how much better the clothes washer and dryers are. Overall it's a nice upgrade. I need to find a hot springs somewhere XD.
My boss has been a complete ogre to my coworker and now she's looking for a new job : (. I'm so sad, I don't want her to leave. My boss never appreciates her and treats her with disrespect. She doesn't know how good she has it with her... she has years of corporate experience, is very organized and on top of things, and is great with all the crazy customers. Like the dude who just walked in... demanded a free copy of some article and when we told him we can't provide that, he asked for the author's e-mail so he could e-mail him and ask for a free copy. Then told us the public library would let him check it out... go there then? Copies are 10 cents per copy. Jeez. Anyway, she isn't here today. Texted me that she is "updating her resume and contemplating life.
He then turns to faces north, changes his weapon to outside shoulder, and waits 21 seconds. He marches 21 steps down the mat and faces east for 21 seconds. He finally turns to face south, changes his weapon to the outside shoulder and waits for 21 seconds. He will do this from anywhere between half an hour to two hours until the changing of the guard ceremony. The relief commander will tell the large gathering crowd at the Arlington National Cemetery to be silent for respect.
"Post and orders remain as directed."
"Orders acknowledged."
And thus the tomb guard has been protecting the Tomb of the Unknown Soldier continuously, without fail, since 1925, and 24/7 since 1937. He marches in the rain, he marches in the sleet, and he soldiers through blizzards. During blizzards, he is given a small tent, but most guards continue marching on, stating that it is a great honor to guard the tomb and the march must continue. All day and night there will be a specially trained US Army soldier to guard the tomb. The tomb guard must pass a difficult exam and serve for 9 months before being awarded the Guard,Tomb of the Unknown Soldier Identification Badge, the second rarest-awarded badge. He will take an average of six hours to prepare the heavy wool uniform and continue physical training for the duration of their post.
The first unknown soldier was brought from France after WWI. He was chosen by decorated wounded veteran U.S. Army Sgt. Edward F. Younger among four identical caskets of other unknown soldiers. The tomb has since received other "unknown" soldiers from WWII, the Korean War, and the Vietnam War. The tomb of one of the "unknown" Vietnam War soldiers was exhumed and DNA tested in 1998 to reveal the remains of Air Force 1st Lt. Michael Joseph Blassie. It is likely that all Vietnam War soldiers can be identified and no longer be "unknown", but not any earlier than that.
This is a good thing, for the purpose of the tomb is to honor veterans who have died in combat. We don't know their names, we don't know their identities, but we know they served their country and died for it and we know that the sentinels will always be there protecting their final burial place.
It is a humid 82 degrees and raining buckets. It is one of those torrential downpours common in the mid-August Virginia climate. The tomb guard is actually happy it's raining because he was feeling way too hot in his wools anyway. He marches 21 steps south as rain splatters on his face and faces east to the tomb. He thinks about the soldiers, mostly unknown that he presides over for the millionth time. He has pledged his life to protect their grave, since they could not be protected in war. He changes his weapon and faces north, continuing the march.
The tomb guard marches 21 steps south down, he turns to faces east toward the tomb for 21 seconds.
HERE
---
"Oh no... no no. Not now," she whimpered when she woke up. This was terrible. It can't happen now.
What am I supposed to do?
"Alex, wake up." She gently shook him.
He groggily opened his eyes. "What?" he mumbled, trying to focus on her. Her mouth was set in a frown.
"My period started. I don't have any tampons or anything. I don't know what to do..." Her eyes filled with tears.
He sat up. "No, don't cry," he commanded. "We'll think of something. Can't you use ... rags? I thought that's what women used back then."
"Not when I have to lug however many pounds of equipment though the swamp. I can't see that working out. I'm about to have really bad cramps. I can't do it..." her voice raised to a squeak and she started to panic.
"I can do something about that," he replied. He left the tent and came back with a bottle of pills.
She instantly lit up. "Ohhh give me that!" She took two capsules of ibuprofen and sighed. "Still doesn't solve the problem of me bleeding everywhere."
"Think," he said sternly. "What else can you use?"
She played with the pill bottle in her hands and turned it back and forth. "You know... I heard that Native women used to use moss when they bled. Maybe that will work?" She looked at him.
He smiled. "Well we are in a swamp. I'm sure we can find that. I'll go get some for you."
"But it would have to be boiled so I don't get an infection. And they aren't very absorbent. I'd have to reboil them often..."
"Let me find some first, then we can talk about the logistics," he left to search for it while she stayed in the tent and thought of everything that could go wrong. What if it didn't work and she bled all over everything? How could she carry all that stuff another day on her period. She really hated being a woman at that point.
He came back soon and handed her the moss. "I guess you can boil it in the bottled water. But we're running out. We'll have to go to the stream faster than I wanted to."
"Thank you." She walked outside when she realized that one of them would have to make a fire every time she needed boiling water.
"Shit. No stove here..." she said.
He stood by her side, and looked at the burnt out tinder from the night before. "I'll show you how to make one," he said, patiently.
"This is going to slow us way down," she sighed.
"Come, help me to find kindling."
They rummaged through the forest for any dried grass, twigs, and branches. When they assembled the materials he showed her how to construe the kindling to keep up a flame.
"The wood here in the everglades doesn't burn that well, so you have to keep adding to it," he showed her how to place the wood and soon a decent flame was burning and she was able to get the water boiling. She boiled all the moss he had collected and then went back in the tent to put it in.
"It feels funny," she scrunched up her face. "I hope it will work." She decided to use some of it and then when it came time to change it, it would be better to rinse it off and put some sterilized moss in it so they could keep going and not have to stop and make another fire.
"Let's pack up and keep going," he looked at the map. "It'll be about 7 miles to the stream."
Seven miles of hell
, she thought. She did pack everything and soon they were ready to go. She picked up all 40 pounds of her bag and slung it over her shoulder. They continues to march on. It didn't take long for her sore muscles and her sore abdomen to start bothering her. She at least remembered to put the mosquito repellent on. The pain worsened as she continued on until she had to stop.
"Alex, I can't go any further," she said. Her eyes were filled with tears again.
He looked at her. "We have to."
"But I'm in a lot of pain," she complained.
"You're going to have to soldier through it..." he started.
"But I'm not a soldier!" She exclaimed. "Why don't you try to suffer though miles and miles of walking with all this heavy shit AND an out of control uterus that's trying to kill you and have to deal with this itchy moss because I didn't know we were going to be trekking through the everglades and I didn't bring any tampons. I
can't
do this." The tears fell with heavy plops on the damp ground.
He sighed. "Just don't cry..."
"Fuck you!" She yelled, and then took off through the woods.
"Shit," he muttered to himself, dropping his own bag and catching up to her. He grabbed her by the shoulders. "Come on, stop this."
"Let go..." she sobbed, but she didn't attempt to flee.
"You can do this, I'll help..." he said.
"No!" she cried.
He then realized that no amount of talking would calm her down. She was too irrational... and possibly too hormonal. He wrapped his arms around her and held her close. "It's going to be ok," he said gently as she sobbed into his chest. He held her while she cried until she quieted down and only then did he let go.
"Are you ok?" he asked, he looked her up and down. She looked worn out, but no longer hysterical.
"Yeah," she said. She didn't look at him.
"You ready to keep going?"
She sighed. "Yes."
"Here, let's see how much more of your stuff we can fit in my oversize bag..." he walked back to the bags and unzipped them both. She then helped him pack up his bag so tightly that it barely closed.
"Thank you," she said, lifting the bag. It felt a little lighter. She asked for more pills and then was able to continue. They walked until they finally hit the stream.
"I guess we can stop here for today," he announced. "We can't go far from the stream anymore since we need the water." He put his bag down. "Let's test what you've learned about fire-starting. You can make the fire now."
"Alright," she agreed and went to collect kindling while he worked on setting up the tent. She put the grass and made a teepee just like he showed her, and then borrowed his lighter to start the fire. She fed it sticks until it burned well enough to keep going. "I am Prometheus!" She called out.
He smiled. "You get an A+ and a badge," he said.
"Yay, I'm a real girl scout now. I should also get this badge for this moss concoction too."
"I think that would fall under the general 'Wilderness Survival' badge," he replied.
They sat cross legged by the fire, another Chef Boyardee. She wondered when they'd run out of rations.
I'm sure he's got the hunting thing all figured out
she thought. She wondered if he brought a cross bow and would turn into a Daryl Dixon.
"You know, I realize I don't even know that much about you," she started. "I didn't even know you had a kid. What's he like?"
He tensed a little. "He's 16 now. I haven't really seen him since he was twelve. I don't know much about what he's like now."
"Oh... sorry," she mumbled.
"But... he liked to go camping out here when he was younger with me. We had a lot of fun..." his voice trailed off and he looked off in the distance. There was a very sad quality to him, something she barely picked up earlier, but was very present now.
"What happened?" she asked, even though she wasn't sure she should.
"Shit happened," he replied, simply. He then got up and began to get ready for bed. She took his cue and didn't ask any further. She began preparing her moss sterilization.
They lay in their sleeping bags in the tent. They didn't speak for a few minutes, but tonight she somehow seemed less exhausted, more preoccupied with what he just told her. She knew she shouldn't ask any more questions because it seemed to make him sad, but she was curious about his situation. Why would he not see him? Did his mother run away with him? She felt sad for him. She knew he wasn't sleeping. She wondered if he was thinking about his kid.
"His name is Dylan," he said quietly. She wouldn't have to wonder for long.
She shifted about in her sleeping bag until she turned on her side to face him.
"He's a great kid... I'm just a shitty father," he continued. "I did a lot of bad things when he was young. Wasn't around for weeks at a time, did a lot of drugs. My wife finally had enough and divorced me. I could see him for a while, take him camping, but then my ex-wife took me to court and prevented visitation. I was very devastated. I ODed so badly my heart stopped... somehow I made it to the hospital in time and they revived me. Maybe that was my wake up call to do better. I stopped taking drugs and took my ex-wife back to court to win back visitation. I got to see Dylan for a while, but then I guess at some point he decided he didn't want to see me anymore. The court takes that into consideration... I write cards and I try to call. After all the legal crap with the courts, my ex-wife is bitter and doesn't want to talk to me and barely fills me in with what's going on with him. Sometimes he'll talk to me. I think he has a step father now, which kills me even more... another guy to do the stuff with him I'm supposed to be doing as a dad. I really do think about him all the time." His voice broke and she could tell that this was hard for him, he was going out on a line to open up to her. "I wish I didn't fuck up so badly, but there isn't much I can do now, and now the world is ending..."
She wiggled out of her sleeping bag a little so she could wrap her arms around him and lay on his chest. "It's ok," she said. "You'll find Dylan when this mess is over and you can tell him how much he means to you."
He chuckled a little. "You must think I'm the biggest asshole. I keep telling you not to cry, and here I am, crying, and you tell me it's ok."
"Because it
is
ok to cry. And I don't think you're an asshole. You're just very hard on me sometimes, I wish you'd understand I'm not a big strong guy and I have female issues and I can't do as much as you."
"But that's the thing, you
are
strong, you're very tough and can handle a lot more than you think. You made it through today, even with your breakdowns, and we made it here. I ask for a lot from you because I know you can give a lot and you have a lot to give. You let fear and pain try to control you, but you fight it, and you come out stronger. You can do it because you've done it, and you continue to do it every day."
"Thank you..." she said. "You believe in me more than I can."
"I'll try to be more sensitive," he paused, "but don't expect a whole lot more."
She laughed. "Ok."
He began to shift around, and she thought he didn't want her to lay on him anymore, so she sat up.
"I just wanted to take my arms out," he said, "you can lay back down if you want to."
It was too dark for him to tell she was smiling. She lay back on his chest and he wrapped his arms around her.
"Night, Viola," he said. He closed his eyes. He briefly wondered if this counted as sharing a bed with a woman? He missed how it felt. He liked her laying on him, her weight was very comforting and it made him relaxed and sleepy.
"Night, Alex," she replied. She was happy and content. She tried not to think about tomorrow and who knows how many more miles he wanted to lug them. She would try to believe in herself as much as he believed in her.
This is a continuation of Week 3's entry, found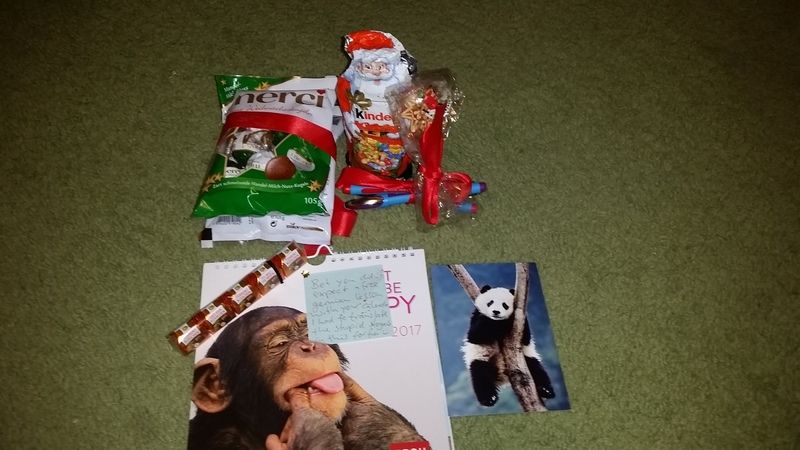 Thank you Pia! I love it all. Though my mean mean fiancee went and hid all the chocolates from me because I'm on a diet and refuses to tell me where they are. I still got a little bite out of the Santa before he did that. And that's not why Santa's head looks wonky, he got a little crushed in transit because he's hollow : ). I found the Team Valor sticker hiding later. I am on Team Valor! The calendar is funny because it's half English and half German. Thank you for translating it.
I participated in a Secret Santa organized by ikel89 and i got some very lively things from Germany.